3 Days of Fun in the Sun!
Oceanside has made a name for itself as a fantastic travel destination thanks to its stunning natural beauty, great year-round weather, large beaches, iconic pier and picturesque harbor. Those attributes compounded with a bustling downtown, booming culinary and arts scene, and packed event calendar means there truly is no shortage of things to do in Oceanside.
With so much to experience, we know it can be a difficult task to narrow down your plans so we've created this 3-day itinerary, highlighting some of the fantastic things you can explore and experience in Oceanside over three days.
If you are traveling with a group for a corporate retreat, reunion, wedding or special event, check out the tips below each itinerary item for ideas on how you could create a customizable experience for your group. For assistance creating your group's custom itinerary, please contact the Visit Oceanside Group Travel Department.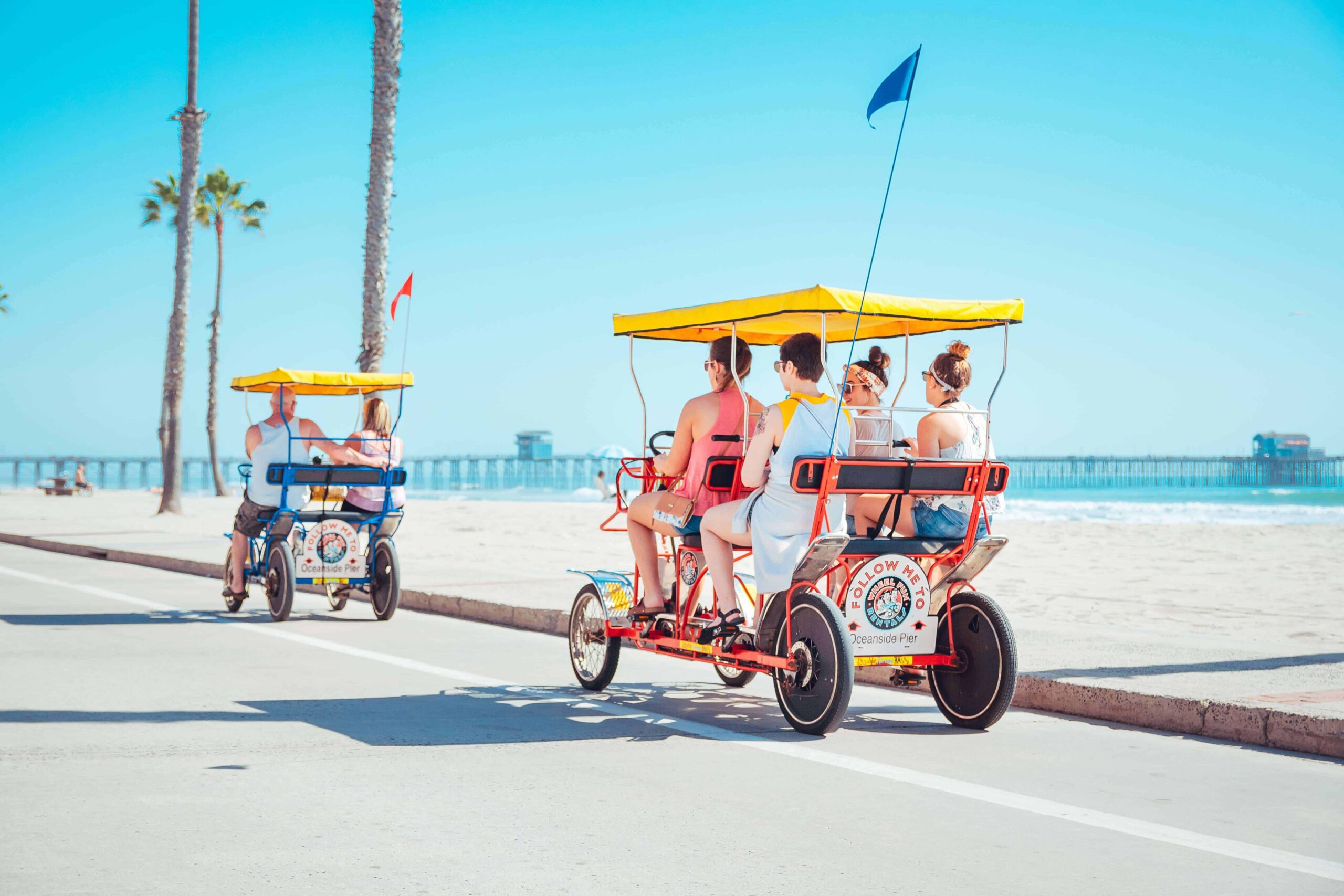 Day 1 – Tuesday
Start your Oceanside experience off on the right foot by making your first stop at the California Welcome Center Oceanside. The Welcome Center's knowledgeable team of volunteers and staff will be able to answer any questions you might have about your upcoming stay in Oceanside, as well as offer discounted attraction tickets and plenty of fun O'side souvenirs and keepsakes! After grabbing some O'side swag don't forget to purchase discounted whale watching tickets with Oceanside Adventures for the following day's activities.
Group Experience: Members of your group can explore the Visitor Center while picking up attraction information and local gifts to commemorate their stay. Bus groups are invited to stop by the Welcome Center for special Motorcoach Driver Incentives.
Next, grab a bite to eat at one of the many fantastic restaurants in downtown Oceanside or near the next stop on the itinerary, Golden Coast Mead Oceanside Tasting Room. Within walking distance to the tasting room are several dining options for you to choose from, including: Enzo's BBQ, Guahan Grill or One Love Island Cuisine.
Have you ever tried mead? If not, you are in for a real treat. Mead is a honey-based alcohol alternative to beer, wine, and cider. Golden Coast Mead is open daily for tastings and has cheese plates available for purchase, courtesy of The Miller's Table.
Group Experience: For an elevated tasting experience, make prior arrangements to have a local caterer or food truck provide culinary delights for your group.
Once you've had your fill of refreshing mead, check-in to your Oceanside hotel or vacation rental. It's now time to relax with friends, family, or coworkers while enjoying a cool ocean breeze. Be sure to scope out a good vantage point before the sun goes down, you don't want to miss one of Oceanside's famously stunning sunsets.
Day 2 – Wednesday
After enjoying breakfast and a warm cup of coffee, head on over to the charming South Oceanside business district. There you will find unique and eclectic local retail shops, craft coffee, and creative gifts.
Group Experience: Head over to SoCal Bikes and book a guided bike tour. If this sounds like too much work, they do have e-bikes too.
After all of the shopping and cycling, I am sure you have quite the appetite! No need to get "hangry" there are loads of fantastic lunch spots within walking distance. A few to check out would include: The Privateer Marketplace & Wine Bar, Panca Peruvian Cuisine & Rotisserie, The Privateer Coal Fire Pizza, PCH Sports Bar & Grill and Anita's Mexican Restaurant.
After indulging in a delicious lunch, take a short drive over to Oceanside Harbor where the group can take a picturesque walk through the quaint New England-style Harbor Village before embarking on a whale watching cruise. Whale watching trips from Oceanside Adventures are held daily at 12pm and 2:30pm, taking approximately two hours to complete. Depending on the time of year, sea life sightings can include Gray Whales, Minke Whales, Humpback Whales, Blue Whales, Fin Whales, Killer Whales, and all species of Dolphin.
Group Experience: Private charters including wine cruises, sunset cruises, team-building cruises, whale watching tours and more can be booked with Oceanside Adventures hosting groups up to 45 passengers.
Once back on dry land, shake off those sea legs and take a short walk over to Harbor Beach where numerous large pavilions are located, perfect for gathering around and discussing the incredible sightings you just witnessed! For the more adventurous, consider walking out onto the jetties located at either end of Harbor Beach to get a unique perspective and beautiful view of the beach, ocean, and the Oceanside Pier.
To close out Day #2, head back into Harbor Village and enjoy a picturesque dinner at Lighthouse Oyster Bar & Grill, located just steps away from where you boarded the whale watching catamaran. Menu items include fresh seafood, steaks, salads, fish tacos and more, as well as a daily happy hour from 3pm-6pm.
Day 3 – Thursday
On your last day in Oceanside you have to visit the iconic "King of the Missions," Mission San Luis Rey. The mission was founded on June 13, 1798, one of the last missions built in California, and is the largest of the 21 missions in the state!
After taking in the beautiful facade and grounds, head into the Mission San Luis Rey Museum, open Monday-Friday from 9:30am-5pm and Saturday-Sunday from 10am-5pm. The museum features an extensive collection of artifacts from Native American, Spanish, Mission, Mexican Secularization and American Military periods.
Group Experience: Private group tours of the mission can be scheduled ahead of time by calling (760)757-3651, ext. 170. Tour stops can include the soldier barracks, the lavanderia (or washroom), the quadrangle, the historic church, and cemetery.
Once you've worked up an appetite, enjoy lunch at the San Luis Rey Bakery and Restaurant for authentic Mexican dishes and delicious traditional Mexican pastries!
Continue to experience the vibrant local culture by heading back to downtown Oceanside and visiting the Oceanside Museum of Art. There you will be pleased to find numerous artistic and cultural exhibits.
Group Experience: A 45-60 minute docent-guided tour of the Oceanside Museum of Art can be scheduled for groups of 10 or more by visiting OMA Group Tours or calling (760) 435-3727. An additional art workshop can also be arranged to commemorate the experience.
Just a short walk down Pier View Way will lead you to the next cultural jewel, the California Surf Museum. Oceanside is proud to be the home of the renowned California Surf Museum, which features an incredible collection of historical surfing artifacts, surf-related displays, and captivating athlete exhibits, currently featuring Bethany Hamilton and Kelly Slater. The museum regularly closes at 4pm, but on Thursday's they are open until 8pm in coordination with the weekly Sunset Market.
Group Experience: Personalized California Surf Museum tours tailor made for your group can be scheduled in advance by calling (760) 721-6876.
The picture-perfect ending to your Oceanside visit is to experience the famous Sunset Market. Every Thursday evening from 5pm-9pm, four blocks of downtown Oceanside transform into an open-air festival complete with a wide variety of incredible food vendors, eclectic shopping, arts and crafts, live entertainment, and more. Its best to walk up and down each row of vendors, letting your nose and eyes help guide you to find your perfect culinary treat.
This itinerary was created for a group of up to 45 people. Pricing and availability will vary based on the number of participants. For details on this 3-day group experience or to create a custom group experience, please contact the Visit Oceanside Group Travel Department.
"If you are looking for an outstanding resource for a trip to Southern California by all means contact Visit Oceanside. They helped with an RFP for hotel rooms and had many suggestions to activities for my tour group. They are knowledgeable about what is available in the area plus offered ideas that dovetailed into my goals for the group. The area is full of interesting and unique activities that are not cookie cutter! Wine made from honey, candle and leather goods class, visit to California Surf Museum, coastal wine cruise, and tour of the Mission San Luis Rey to name a few. Meal options abound such as Lighthouse Bar & Grille in the Harbor, lunch and milkshakes at Café 101 a 50's diner, and international food trucks at the Sunset Market. Visit Oceanside will make sure that your group remembers Oceanside and their time in California!"

– C. Tripod, Owner and Tour Planner of Tripod Vacations