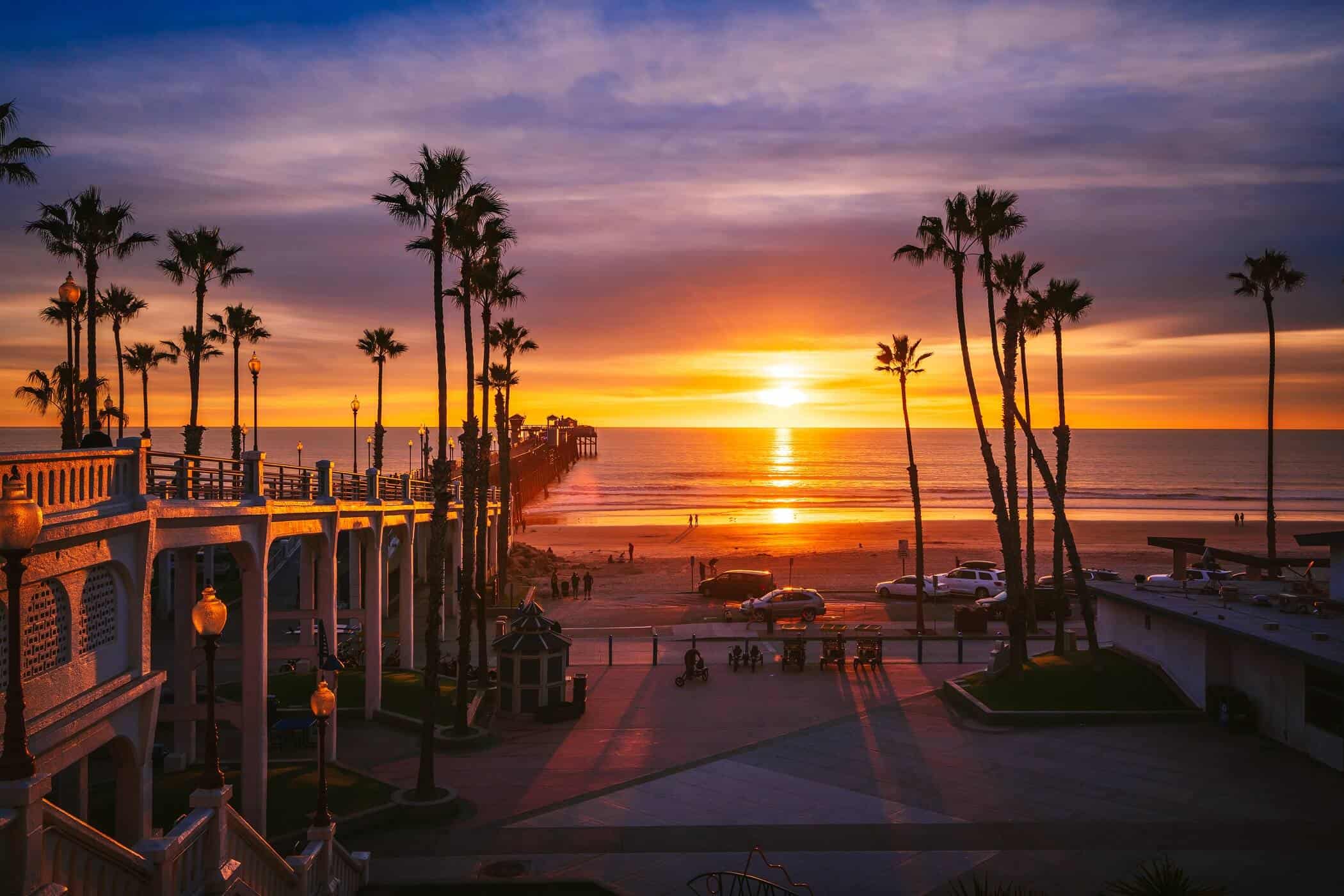 10 Reasons to Visit Oceanside in Fall
---
Think pumpkin spice and everything nice, mixed with all the quintessential, year-round O'side attractions you know and love! We don't know how time flew by so fast…but the fall season is upon us and Oceanside is ready to welcome you for a coastal retreat – perfect for your couples getaway, family trip, team bonding weekend or solo adventure! Fall in love with our SoCal city all over again with these TOP 10 reasons you should make Oceanside your next autumnal oasis.
Catch a Stellar Sunrise and Sunset
---
Fall mornings and evenings light up the sky and paint Oceanside's coastline with spectacular colors that will take your breath away! Whether you're a professional photographer looking to snap your next frame-worthy photo or simply wanting to capture the moment to share on social media with your friends and family, O'side is the perfect subject for your camera lens. Plentiful classic California visuals like rows of palm trees and crashing waves on sandy beaches, coupled with spectacular sunsets night after night make for one photogenic city! Check out our list of the Best Places to Take a Photo in Oceanside.
New Restaurants on the Scene
---
Ben & Esther's, Cococabana, Hangar 76, KNVS, Q&A Restaurant, Naegi
Oceanside's vibrant dining scene continues to grow! Enjoy new restaurants this fall like
Naegi
苗木, a Japanese sandwich spot created by
Matsu
mastermind Chef William Eick,
Ben & Esther's
, a Jewish deli whipping up vegan comfort food and
KNVS
, a first-of-its-kind immersive art gallery, where guests nosh and sip on a themed menu. Head inland for Hangar 76, a 14,500-square feet operation serving
Carruth Cellars
&
Tipping Pint Brewing Co
. Two new concepts also just opened in The Brick Hotel:
Cococabana
, a tropical rooftop bar and
Q&A Restaurant
, a New Orleans-style concept featuring an oyster bar and French Quarter-inspired cocktails. These new flavors add to the rich culinary scene locals and visitors have come to know and love.
New Boutique Hotels
---
The Brick Hotel & The Green Room Hotel
Stay somewhere quaint for a fall getaway! Explore a historical retreat in Oceanside! Built in 1888, the Schuyler Building has been transformed into a new Downtown getaway, named The Brick Hotel. Experience the venue's dining and sips selections: Frankie's Cocktail Bar, Q&A Restaurant and Cocoacabana Rooftop Bar. Make your way to South Oceanside for a boutique stay at The Green Room Hotel. It's home to a vibrant community of people, passionate about the ocean, culture, and crafts. Their individually curated rooms are a nod to the surf and sound subcultures of Southern California from generations past and present. Both properties are offering Fall Specials on your stay!
Farming Season Fun
---
Mellano Family Farms & Oceanside Farmers Market
Experience Oceanside's cornucopia of fresh produce and flowers with fall farm experiences! Weekly trips to the Farmer's Market on Thursday from 9am to 1pm lead you to ocean views as you browse the selection of gourmet baked goods, fresh seafood and arts and crafts. Get to know our O'side growers and farmers as you dine out in the city. Many of our premier restaurants and coffee shops source their produce from O'side growers, allowing for authentic farm-to-table menu options. Stop by the Mellano Farm Stand conveniently located a short distance inland of the coastline to pick up organic produce and beautiful flowers. This local farmland hosts seasonal festivals with tractor rides, sunflower gardens, a pumpkin patch, live music and much more!
Events This Season
---
Even with the fall season upon us, Oceanside is still sporting clear skies and sunshine! Enjoy our coastal destination by checking out these awesome Oceanside events happening this season! Attend the 21st annual Dia de los Muertos Festival, sample food from the hottest our city's incredible dining scene has to offer at Taste of Oceanside and come "move your feet before you eat" this Thanksgiving at Oceanside's Annual O'side Turkey Trot. Throughout October the little ones will also get a chance to play and explore attractions, tours, museums and more for FREE during Kids Free Month.
Fall in love with our perfect year-round temperatures and experience everything Oceanside has to offer with our full Oceanside Event Calendar!
Whale Watching Wonders
---
Oceanside Adventures, Oceanside Coastal Expeditions & Oceanside SEA Center
Did you know Oceanside is home to some of the best whale watching in San Diego County? Not only does our city boast a 1,942 foot long pier you can stroll to catch a glimpse of wildlife at your own leisure, but Oceanside also has a full-fledged harbor with whale watching tours and charters departing everyday for an up-close experience out on the water. As blue whale season wraps up in late November the grey whale season begins! Plus, since dolphins don't have migratory habits, sightings can be enjoyed year-round!
Wine Down
---
Beach House Winery, Carruth Cellars, Coomber Craft Wines and Orfila Vineyards & Winery
While San Diego may be well-known for its craft beer, Oceanside has been making waves recently by expanding into the wine scene. Experience a fresh pour of indulgent flavors from local wineries right here in O'side. Whether you're in the mood for an intimate evening or more lively wine experience enjoying live music, we has the perfect craft beverage scene awaiting you. Enjoy Beach House Winery, Carruth Cellars, Orfila Vineyards & Winery and Coomber Craft Wines, among others all with the O'side Sips passport program and unlock prizes for supporting these vino hotspots!
Fall Fishing
---
Charter a Boat or Cast Off The Pier
Reel in a fresh fall catch! The iconic Oceanside Pier not only offers visitors an incredible view of the Pacific Ocean and stunning coastline, but it also allows for the unique chance to cast a line into deep ocean water. The Oceanside Pier is classified as a fishing pier which means that it is open for public use with no fishing license required. There is also a dedicated bait shop located in the center of the pier which offers rod rentals and fresh bait, as well as local advice on what's biting. For those with their own equipment handy, the Oceanside Harbor has its own small fishing pier and daily fishing charters.
Catch A Wave
---
For many avid surfers, nothing beats catching those fall season swells. With warm weather still making the water temperature comfortable, Oceanside provides the perfect conditions to catch a wave! If you're simply wanting to take in the view of local surf talent, at any point during the day, no matter the time of year, there's a good chance surfers will be paddling out and showing off their mad skills! Boasting over 3.5 miles of beaches, there is no shortage of great spots to surf including the Oceanside Harbor, the Oceanside Pier, the surrounding beach breaks and more. Plus it's always a good time to learn!
Autumn Adventures
---
Embark on a high-flying adventure you won't forget! Book a thrilling Waverider Helicopter Tour for a magical coastline view and incredible aerial look at SoCal.For those that prefer sticking closer to the ground but still want the rush of wind and the feeling of weightlessness, look no further than indoor skydiving at iFLY Oceanside. If you're a little more daring, take the ultimate leap by making a skydiving reservation with GoJump Oceanside. With seasoned pilots and pro jumpers leading you every step of the way, taking to the sky this fall season will be the thrill of your life.
Accompanying our wonderful year-round weather is a fresh autumn breeze the fall season brings making O'side an ideal location for a fall biking excursion. Looking for some two-wheel motorized fun? Zip around on an e-bike from Mostly E-Bikes! Ride O'side's fat tire electric scooters offer a smooth yet exciting way to ride around our beautiful coastal town. For groups that like to take things at a slower pace look no further than Wheel Fun Rentals and their fun two or four-person surreys which can be rented right on The Strand, just below the Pier. You can even bring your own bike to keep up with your fall distance training regimen along the 10.7-mile-long San Luis Rey Bike Trail!