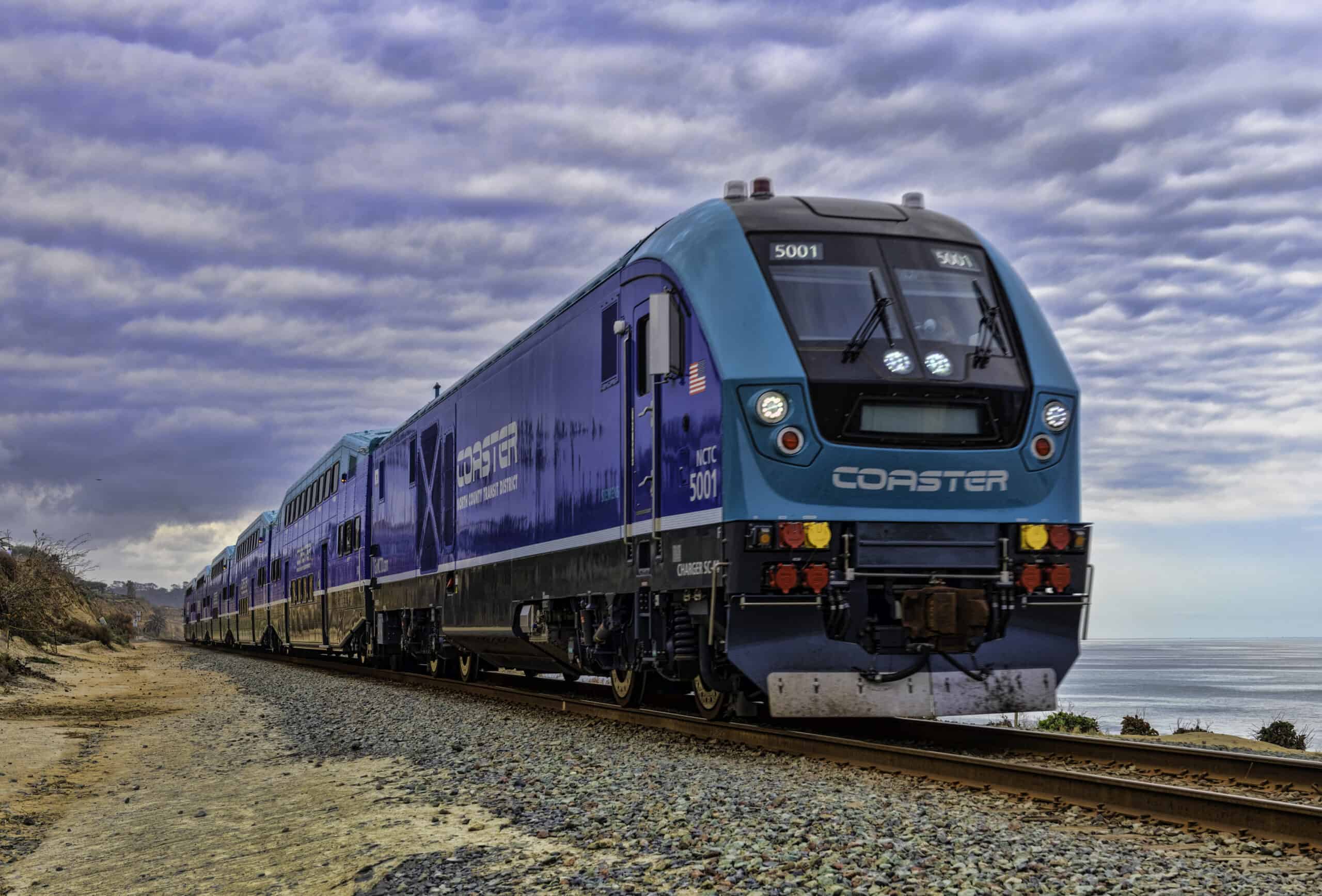 5 Tips for Taking the
Train to San Diego
---
With a conveniently located
Transit Center
in the heart of Oceanside's quaint downtown, heading south to San Diego couldn't be easier thanks to the
North County Transit District(NCTD)
Coaster
commuter train and
Amtrak Pacific Surfliner
. This transportation option offers a unique chance to travel down the beautiful California coast in a relaxing fashion without having to worry about traffic. Sit back and enjoy the views, or take advantage of the extra time and plan out your San Diego itinerary for the day!
Please Note: all Amtrak and Metrolink trains to and from Oceanside are suspended until further notice. Please plan travel accordingly.
5 Tips for taking the Coaster Train
1. Know Where You Can Go
The NCTD Coaster Regional Day and Monthly Passes allow you to travel to all Coaster and Sprinter stations as well as use of the Amtrak Pacific Surfliner between Oceanside and downtown San Diego.
Pro Tip: Headed to Petco Park to witness a Padres WIN? When you purchase a regional day pass from Oceanside to go to a Padres Game you are able to ride the Coaster to Santa Fe Depot then transfer to the MTS green line trolley for no extra charge!
2. Get the Right Seat for You!
The Coaster is at heart a commuter rail and therefore seating is on a first come first serve basis. Luckily, when you are traveling from Oceanside Transit station, you are likely to get your seat preference as the first stop. Be sure to leave plenty of time (at least 15 minutes) to get to your train once you arrive at Oceanside Transportation Station.
Pro tip: Sitting on the west side of the train while facing South is often said to be the best seats!
3. Know the Amenities
Each Coaster train provides ample seating on two 2 levels
Restrooms are provided on all trains and located on the bottom level of the cars near the doors.
Wifi is available for your convenience on all trains
A water dispenser is available on the bottom level near the restrooms
All COASTER stations provide ADA-compliant level boarding through the use of bridge plates. 
Pro TIp: Don't forget to throw away any trash you accumulate in the designated trash cans
4. Download the Pronto App
San Diego Coaster ticketing is available through the PRONTO app, an easy and convenient way to purchase your tickets and find the right train times to fit your schedule. PRONTO cards are also available for purchase PRONTO cards are $2 and available at NCTD Customer Service Centers and station ticket vending machines. 
Pro Tip: Save your PRONTO app ticket to your phone's wallet so it is ready when the Coaster ticket collectors come by!
5. Enjoy the Ride:
The Coaster route is a picturesque look into North San Diego County, whether your are using it as your main source of transportation during your trip or taking it for a single excursion, you are bound to have a memorable ride. 
Things to note on your way down:
The Lagoons – San Diego County is home to a number of that are very important to our coastal ecosystem. Starting with Buena Vista Lagoon separating Oceanside and Carlsbad, see how many you can spot on your way!
The Del Mar Racetrack – Notable as the location of both the San Diego County Fair and the Del Mar Horse Races each year. After you pass Solana Beach station, look east and you will see the Del Mar Racetrack and west to see the Del Mar Dog Beach.
San Diego Bay – As you approach the final Coaster destination of Santa Fe Depot you will be treated to a glimpse of San Diego Bay. Keep your eyes peeled for the San Diego International Airport, Fiesta Island, and Little Italy!
The Pacific Ocean – This one may seem obvious but enjoying the beautiful coastline on a Coaster trip is a wonderful way to experience the Southern California Coastline.
Need Help?
If you need assistance navigating the Coaster schedule or planning your San Diego excursion visit the  California Welcome Center – Oceanside where one of our knowledgeable volunteers can assist you with any of your questions or concerns. Grab a map, discount attraction tickets and some souvenirs while you're there! 
Click on the top, left map icon to expand specific road trip location information
Click HERE to open in Google Maps application