Great Places to Take a Photo in Oceanside
Whether it be a fun selfie, a gorgeous landscape shot or something abstract and artsy, Oceanside's diverse and beautiful scenery makes for some of the best photographic backdrops in Southern California. With classic Californian visuals like rows of palm trees and crashing waves on sandy beaches, as well as spectacular sunsets, photogenic murals laced throughout downtown, the largest mission in all of California and so on, Oceanside welcomes all keen eyed creatives and 'documenters' of fun.
[vc_video link="https://youtu.be/gty4ZQWIF8M" align="center"]
[vc_video link="https://youtu.be/FGCqXS-IaPM" align="center"]
The Beach and Pier
---
The most obvious place to snap away at is the beach. Oceanside is known for its large sandy beaches which allow for plenty of room to be creative and capture that perfect beachy shot to share. What really helps add a whole new dimension to your beach shots is the Oceanside Pier, a 1,942 foot structure stretching out into the deep blue ocean. Including the pier in photos of the ocean helps to give a sense of scale, and can make your picture that much more interesting!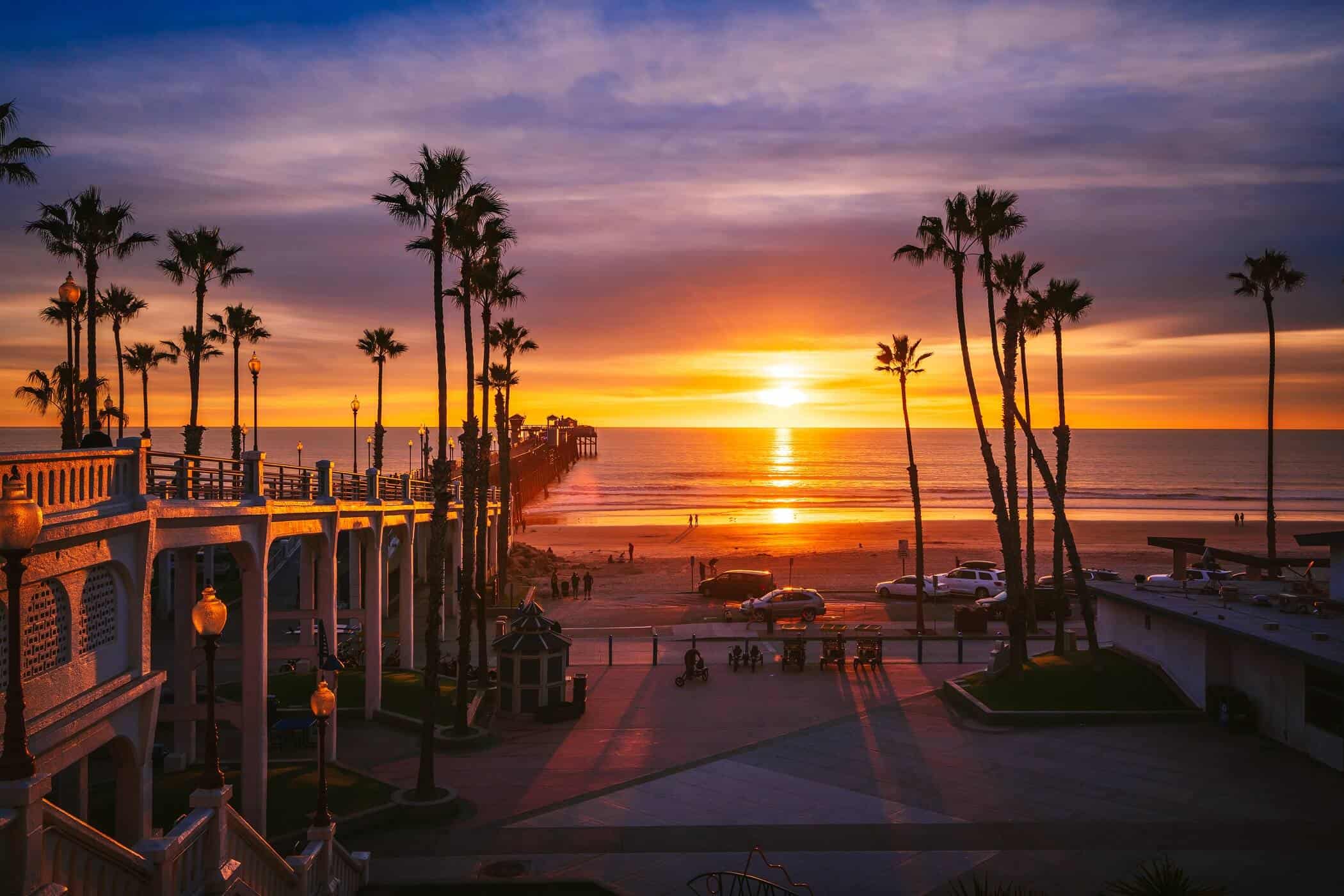 Have a camera handy while the tide is low and you will get an amazing opportunity to capture pictures from below the pier! Standing directly underneath the middle of the wooden structure reveals an amazing 'window' out into the ocean that needs to be seen to be believed, and then photographed to remember! The pier isn't just a great subject to fill your camera frame either, it is also an excellent way to capture the beautiful coastline and waves from a unique vantage point that would otherwise be unavailable. No matter the lighting or the equipment, the pier always results in a memorable photograph worthy of sharing with the world.
Murals and Artwork
---
Oceanside is much more than just a city by the beach, it is a thriving town with its own unique culture that includes a love for the arts. So much so that Oceanside has been recognized by the California Arts Council as one of the state's 14 premier state-designated cultural districts! With the combination of talented local artists, passionate locals, supportive businesses and a strong foundation of art institutes and museums Oceanside has become a hotbed for stunning artwork that can be seen throughout downtown. Over the next three years the number of murals will continue to grow with the Oceanside Mural Initiative seeking to install nine additional curated public murals over the course of three years in Downtown Oceanside. These colorful and vibrant pieces located up and down Oceanside often require a little searching to find, but once located they all make for great photographic subjects. To see where you can find the murals photographed below click on their respective pictures.