Educational Travel Experiences
Connecting learning curriculum to adventures in Oceanside
"Back to school" this year calls for creativity and ingenuity! As you tailor your student's curriculum to keep them engaged and excited, we invite you to consider O'side as an extension of your classroom. Make the most of the city's incredible natural landscape featuring beautiful marine life and aquatic lessons, in addition to the rich historical gems and artistic offerings your student can experience firsthand. Whether you're schooling with a designated pod, roadschooling, worldschooling, unschooling, or classic homeschooling, Oceanside has activities that will enrich your program and be the perfect supplement to your curriculum.
Candid Classroom Captures
---
We want to see your students learning in O'side! Be sure to tag @VisitOceanside in your photos on Instagram using the hashtag #VisitOceanside for a chance to have your image featured!
One For The History Books
---
Seeing a historical landmark in person truly makes history come alive in a way that reading a book never can! Oceanside's history begins in the agriculture-rich San Luis Rey Valley, which was first discovered by the Spanish Explorer Portola in 1769 and led to the founding of the Mission San Luis Rey de Francia in 1798. The Mission, known for its vast fruit orchards and cattle raising, included a large population of Native Americans. The Indians who were gathered at the Mission were called "San Luisenos" by the Franciscans, later shortened to "Luisenos." Indians were instrumental in building Mission San Luis Rey, which became the largest building in California when completed and was the most prosperous of the missions, earning the name "King of the Missions."
Explore the Mission and these other historic points in Oceanside.
Experience California Culture
---
Experiencing a different culture can open doors to a deeper understanding of an unfamiliar place. Learn a little bit about life in Oceanside and California through these local experiences. If you're following a formal curriculum, these activities fit within history, social studies and anthropology units.
Nothing says Southern California like surfing! At any point during the day, no matter the time of year, there's a good chance surfers will be out enjoying the water waiting to catch their next wave, and Oceanside is no different. One of the best ways to experience the local surf culture is to get your toes wet and take a
surf lesson
with a local surf pro. There are a variety of aficionados who specialize in all things surf that would be happy to teach you the ins-and-outs of the local surf scene.
Trivia: What country did Europeans first observe surfing?
For those that don't want to get wet, check out the exhibits at the iconic California Surf Museum in downtown Oceanside. This family-friendly museum has a stunning collection of surfboards showcasing the progression of materials used by surfers from around the world. Additionally, the California Surf Museum has the permanent exhibit featuring the infamous Bethany Hamilton shark-bitten surfboard.
The museum actively collects, documents and preserves surfing related artifacts and memorabilia.
Thursday is Market Day in Oceanside! Mingle with the locals and experience Southern California's cornucopia of fresh produce and flowers at the Farmer's Market from 9am to 1pm. Enjoy ocean views as you browse the selection of gourmet baked goods, fresh seafood and arts and crafts. With a variety of vendors, the farmer's market is a wonderful place to eat lunch and relax.
Project idea: See how many country's cuisines are represented at the market and find those countries on a world map.
Cultural Arts District
As one of California's designated cultural districts, Oceanside is home to an emerging art scene. Oceanside Museum of Art is a premier regional art museum and a leader of arts and culture. Artist Alley is also a vibrant walkway full of interactive experiences for artists and artisans to enjoy. The historical Sunshine Brooks and Star Theatre provide opportunities for all ages and introduces professional theatrical expression to thousands of schoolchildren each year. Restaurants, wineries and breweries also spotlight local artists and musicians. Keep an eye on our event calendar for cultural events like the upcoming Oceanside Culture Festival.
Project idea: Discuss ways in which you're connected to local cultural landmarks in your community or in what ways various traditions are similar or different from yours.
Flora and Fauna
---
Grab those field guides and journal about the incredible diversity of Oceanside wildlife. Learn why native and drought tolerant plants are important to Californians and why we take water so seriously. Hear from our local experts on conservation efforts to preserve our biodiversity. These excursions offer valuable learning opportunities in science, geology, geography and animal studies!.
Project idea: Older students might enjoy doing a unit study on one particular animal, a group of animals in a specific part of the world, or a certain habitat featured in an enclosure.
Time To Get Creative
---
Get up close and personal to a variety of visual, performing, fine, modern, photographic and folk arts in Oceanside. With so much inspiration accessible at every corner of the city, it's the perfect place to get inspired and spark creativity!
The Oceanside Museum of Art programming includes films, virtual art experiences, art classes, lectures and modern art exhibitions every year. With a mission to celebrate art through engagement, education and innovation, OMA engages visitors and members of all ages, interests and occupations when they visit. Check their online calendar for artist experiences and current exhibits.
Studio ACE has been serving the Oceanside community with art classes for a diverse range of skill levels and ages since 2018. Their studio space has transitioned into the virtual world, where the sky is the limit! ACE now offers fantastic sessions of Virtual Summer Art Camp, with online classes starting September 2020. They will also be bringing popular classes back starting in mid-September, including All About Art for Kids & Teens. Stay tuned on Studio ACE's website for more details on clay and sewing classes as well as virtual home studio school classes!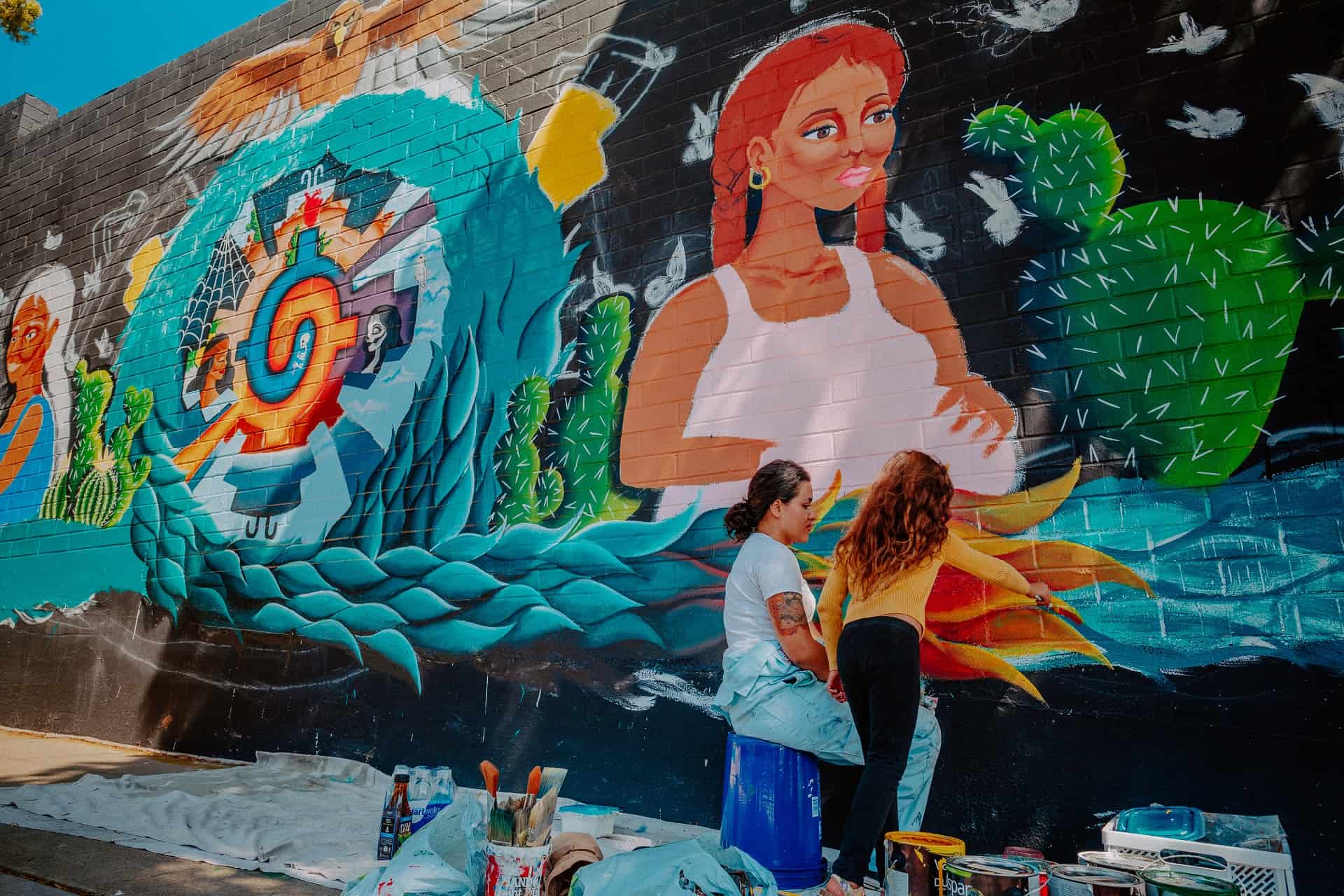 Oceanside's passion for art is most obviously portrayed on the exterior of many downtown buildings, both new and old, which often feature vibrant colored murals that seem to almost pop off the walls. With over two dozen murals within the coastal neighborhood, the best way to experience them is to take a self-guided tour. No need to aimlessly search however, we've done the hard work for you by compiling the location and a picture of each mural so that you can create your own route and stop by all of your favorites for that perfect urban selfie!
Project Idea: Choose your favorite Oceanside mural and journal what you think the artist was trying to convey. In what ways does the mural reflect the Oceanside culture that you've observed?
The Oceanside Public Library is the cultural heart of Oceanside, empowering the community by promoting literacy, information access, civic engagement, cultural inclusiveness and openness to new ideas. You'll find their ideals reflected in its diverse programming. View their calendar to see what events are being hosted.
Bring your homeschooling group!
If interested in traveling with your homeschooling group to Oceanside, contact our Group Travel Department to assist you in finding the best lodging based on your needs and budget.
Family Travel
Looking for more fun experiences that your whole family will enjoy? Beyond a classic beach day, there's a lot that kids love about O'side, making it the perfect family getaway destination!