Oceanside is Resale Heaven!
Begin your search for the perfect treasure on Oceanside's inland trail of thrift and resale stores that are all located on one street – Mission Avenue, just east of the 5 Freeway. Whether you're looking for a special collectible, reclaimed furniture pieces, or anything in between, save money and time by checking out these local stores. As a bonus, because most of them benefit various charities you'll also be helping others in the process!
Vintage and up-cycled retail shops can be found throughout the City of Oceanside so we've also included four coastal boutiques featured at the bottom of this article. Happy Shopping!
If San Luis Rey is "King of the Missions", then Mission Avenue is "Queen of the Resale"!
Click top, left map icon to expand location information.
Click top, right icon to open in Google Maps application.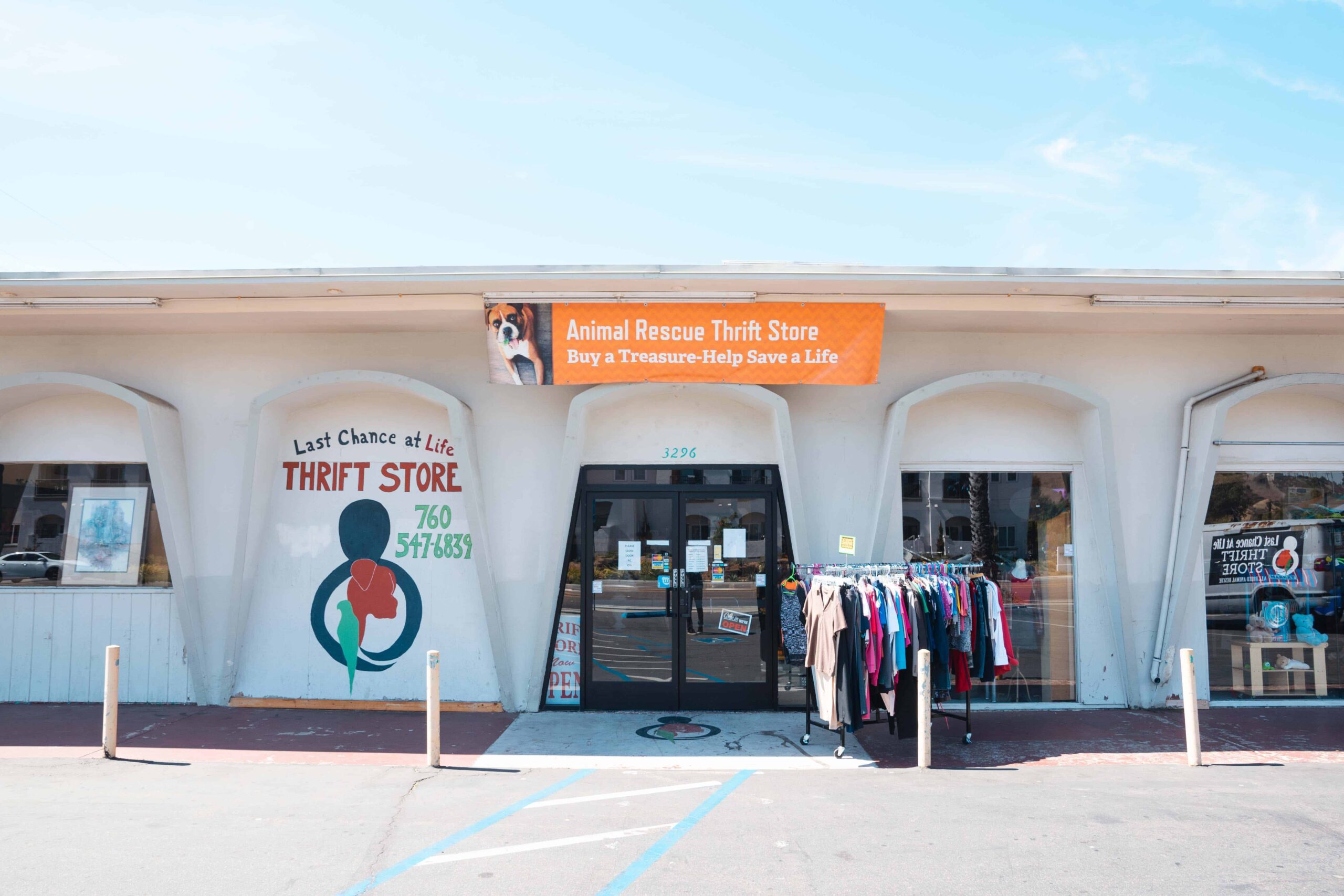 Last Chance at Life Thrift is the retail component of "Last Chance at Life," which helps rescue animals from shelters in North County and offers an adoption program for dogs and birds. Their adjacent thrift store, adorned with the logo "Buy a Treasure- Help Save a Life," carries used clothing, sporting goods, children's items, housewares, pet supplies, and a library all sorted and labeled. In addition, kids get a free book just for visiting!
Women's Resource Center Thrift offers a selection of miscellaneous items at value prices with the proceeds benefiting victims of domestic violence. Near the boutique is a darling flower stand; pick-up a bouquet of flowers while you're there and make someone's day a little brighter.
Along the opposite side of the street you will find TERI Inspired Resale within the Stater Bros. shopping center. You will be amazed at the quality and professional displays of used housewares, furniture, clothing, and accessories; along with handmade art by the folks at TERI benefiting special needs kids.
Goodwill Industries Thrift Store has wonderful boutique clothing and a small housewares section. Unlike other thrift stores, they are open on Mondays! Goodwill stores are also an equal opportunity employer.
Brother Benno's Thrift Shop has a fantastic selection of furniture at fair prices. Sales are held on the last Saturday of the month. Their charity work is well known for helping the less fortunate in Oceanside.
Cruise Along the Coast
In addition to the collection of vintage shopping locations inland, there are a variety of resale stores sprinkled along Coast Highway. Four of these retail gems are located in South Oceanside and offer a wide selection of items ranging from vintage clothing and furniture to upcycled goods and reclaimed crafts.
If you're looking for a fun vibe with plenty of character, look not further than Captain's Helm! This clothing boutique offers new clothing and accessories, as well as recycled clothing that was sold or traded in for other items in exchange. In addition to the current and stylistic selections you can enjoy their in-house coffee to make the shopping experience that much better!
D.A.V. Oceanside is a non-profit for disabled American veterans (D.A.V.) that offers some of the best deals on used goods in North County. The Oceanside location is large with a deep inventory and broad variety to search through which, when coupled with the great cause backing it, makes for a wonderful place to look for that perfect prize!
Looking for high quality treasures? Estate Sale Warehouse houses a wide selection of great condition goods including many vintage pieces. Inventory is always changing so stop by often and you'll be greeted with a whole new treasure trove to search through!
Sea Hive Marketplace is a haven for those that love unique and rare treasures, featuring numerous booths each with their own style and offerings. The store's size and dense selection is a sight to behold upon first entering, and we recommend giving yourself plenty of time to explore every nook and cranny!
With all of these great choices for quality resale stores be sure to check them all out when looking for that perfect find, and know you'll be making a difference in our community in the process!