Beaches, Bikes, and Besties: A Girlfriend Getaway to Oceanside
Whether its for a bachelorette party, a baby shower, or that you simply need to getaway and laugh with your friends, there are many reasons to pick a date and get together for a girlfriend getaway. Jamie Wade, an aesthetician in New Hampshire, recently invited her girlfriends, who live in different parts of the country, to join her for a destination getaway in Oceanside to celebrate her 40th birthday. Their three day vacay included a stay at a private home near the Oceanside community of South Morro Hills, a day at Oceanside beaches, and a themed dinner party.
Jamie wanted to make sure the girls had all of the supplies needed for their fun in the sun and put together swag bags that included sunscreen and towels. The girls then began their day in Oceanside with bike rentals where they cruised by the Top Gun House and then cycled down the Strand. They enjoyed a catered lunch set up for them by Details Defined where they toasted the birthday girl and shared endless laughs. Jamie hired local photographer Tatiana M Photography to capture the special moments of the day as well as get in a fun little photo shoot. What a special way to remember their time in Oceanside!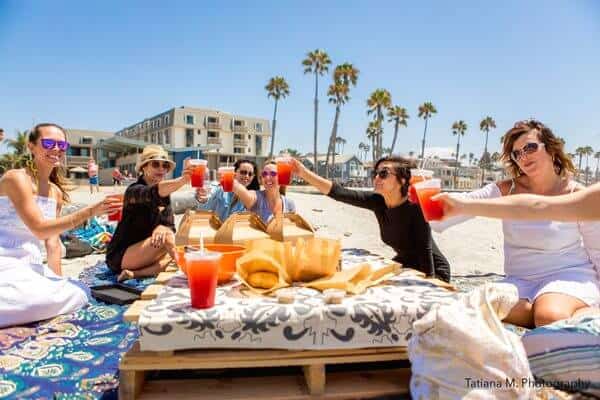 Thank you for sharing your photos with us on Facebook, Jamie! We really enjoyed seeing how you and your friends played in Oceanside.
Looking to plan a girlfriend getaway? Our group travel team is here to help! Request our gathering guide to get started or click here for our own Girlfriend Getaway Itinerary!