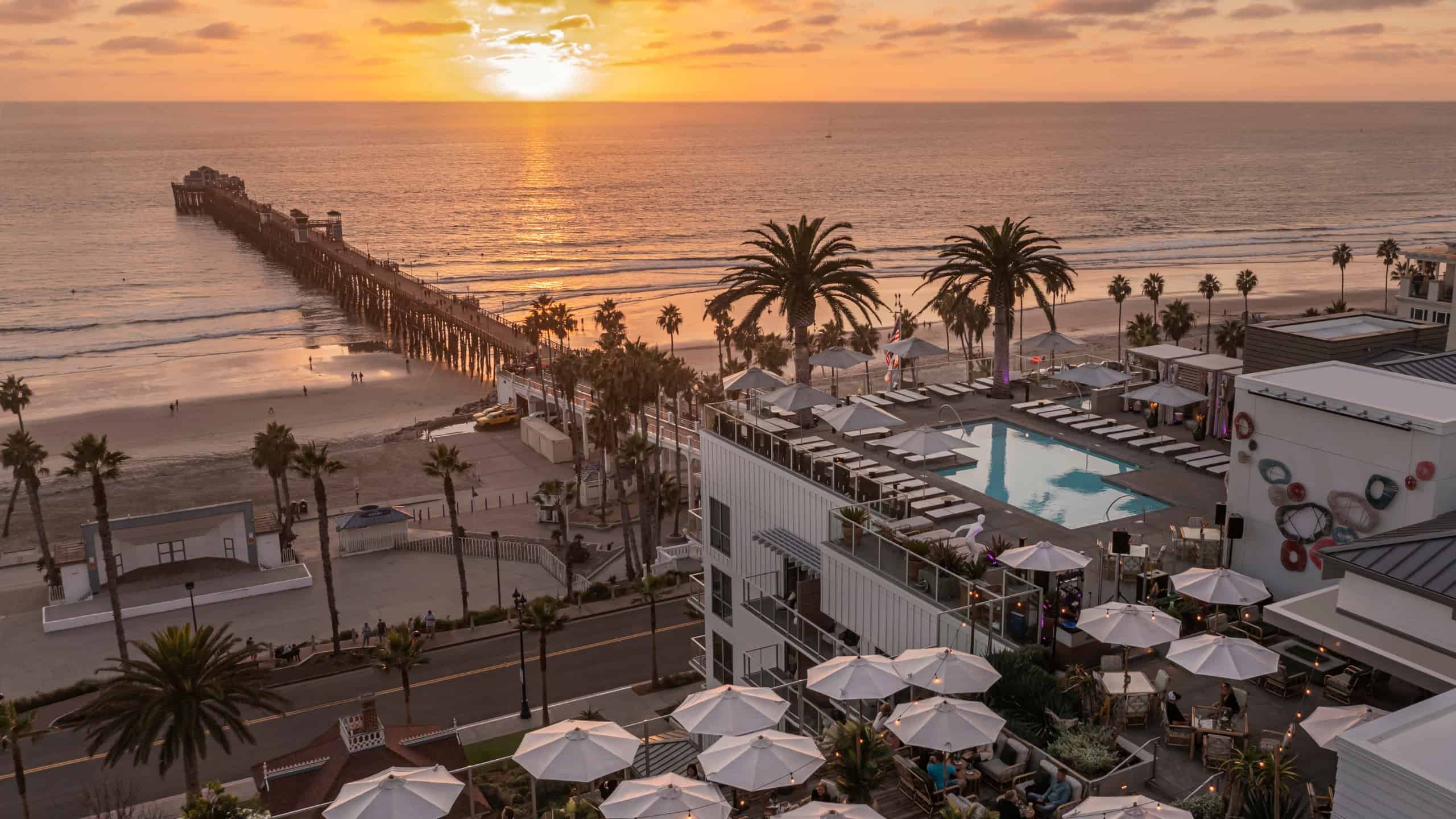 Photo Credit: Mission Pacific Hotel
February Oceanside Events
Escape the cold and snow and enjoy all that Oceanside has to offer in February, including warm weather and countless fun events and activities planned for the month! To see the rest of the events taking place this February and beyond be sure to visit the Oceanside Event Calendar.
What: Trying to get your Mardi Gras on, but can't make it to New Orleans? Don't worry. Oceanside has you covered. We're bringing a new, lively spirit of Mardi Gras to our city during the month of January leading up to Fat Tuesday (February 21). Downtown O'side businesses will be creating an experience within their establishments that reflect the Mardi Gras/Carnival experience—you know, plenty of food and drinks, jazz music playing in the background, colorful decorations and Big Easy themed events splashed around the calendar.
When: January 19 – February 21, 2023
Where: Downtown Oceanside
What: Head to Mission San Luis Rey to enjoy a concert by Mel Vernon, Captain of the San Luis Rey Band of Mission Indians. Mel will lead members of the San Luis Rey Band of Mission Indians in playing Native American music, as well as storytelling about how Native Americans use and make flutes.
When: Saturday, February 11, 2023, 5:00-7:00pm
Where: Mission San Luis Rey 4050 Mission Avenue, Oceanside, CA 92057
More Info: Mission San Luis Rey
What: Celebrate Black History Month with a fascinating history program, "Generational Black Pioneers, featuring Oceanside Entrepreneurs" on February 11, 2023 in Oceanside. A collaboration with the Oceanside Historical Society and Bliss Tea and Treats, this interactive, multi-media exploration celebrates black entrepreneurs in Oceanside throughout the years. Combining non-fictional narratives and fictional dramatizations, the program will spotlight stories of some of Oceanside's most influential business owners!
When: Saturday, February 11, 2023, 7:30pm
Where: Brooks Theatre, 219 North Coast Highway, Oceanside CA 92054
More Info: Oceanside Theatre Company
What: Join Star Theatre Company for a productions of Neil Simon's Comedy "RUMORS". In 1988, Neil Simon needed to cheer himself up. The solution was a farce in two acts, set in Palisades, that shows a dinner party gone topsy-turvy. An enjoyable romp that has been staged all over the world, this is one of Simon's most celebrated comedies. But it carries a subtle undercurrent of sadness, which becomes clearer when we set it alongside the events of the playwright's life. Rated: PG-13
When: February 17-26, 2023
Fridays & Saturdays, 7:30pm
Sundays, 2pm
Where: Star Theatre, 402 North Coast Hwy, Oceanside, CA 92054
More Info: Buy your tickets at Star Theatre Shows
What: Oceanside's Premiere Celebration and Showcase of the Cinematic Arts.Get ready for one awesome cinematic celebration weekend! Established in 2009, OIFF is an opportunity for independent filmmakers to have their work screened along the county's North Coast region. It also gives attendees a chance for viewing local and international films at a place in Southern California known for its rich history, beautiful beaches, and unique artistic community. In 2017, Oceanside was honored as one of only 14 California designated cultural districts throughout the Golden State.
When: February 21-25, 2023
Where: Brooks Theatre, 219 North Coast Highway, Oceanside CA 92054
More Info: Oceanside International Film Festival
What: Join the Buena Vista Audubon Society birders for their basic birding workshop and bird count at the Buena Vista Lagoon. No experience necessary! On this birding walk, you will start along the Buena Vista Lagoon, visit Maxton Brown Park, traverse to the ocean and beach, and loop back to the Nature Center stopping at various locations along the way to observe the micro-niche habitats containing various birds species in the area.
When: Saturday, February 25, 2023, 9am-12pm
Where: Buena Vista Audubon Society Nature Center, 2202 S Coast Hwy Oceanside CA 92054
More Info: Buena Vista Audubon Events
What: A great intro to roasting class for any coffee aficionados! You'll work with our Roaster team to custom develop a roast profile & select a coffee of your choosing. After roasting the coffee, you'll take home all 5lbs in individual bags so you can give them to friends and family as gifts!
When: Sunday, February 26, 2023, 9:00 AM-6:00 PM
Where: Vigilante Coffee, 1575 South Coast Highway, Oceanside, CA 92054
More Info: Vigilante Coffee
What: Explore Sunset Market Day in Downtown Oceanside! This outdoor style festival brings together international food vendors, live entertainment and a children's area – make an evening of it, stay and eat dinner! The market also includes arts and crafts vendors, making it a wonderful place to purchase the perfect gift or souvenir.
When: Every Thursday, 5pm-9pm
Where: Corner of Pier View Way and Coast Highway, Pier View Way, Oceanside, CA 92054
More Info: Oceanside Sunset Market
What: Join us at The Shore Room every Sunday to sip craft cocktails and enjoy live entertainment with an ocean view. Hear stripped down performances from local talent while lounging with your friends.
When: Every Sunday, 4:00pm-7:00pm
Where:The Seabird Resort, 101 Mission Ave, Oceanside, CA 92054
More Info: The Shore Room