4th Grade Field Trip – Mission San Luis Rey
Every year thousands of fourth grade students from across the state of California travel to one of the twenty-one missions located along the western coastline. As part of the state's Social Science Curriculum Standards, fourth grade students are taught about California Mission history and impact, and are greatly encouraged to take trips to see the historical landmarks first-hand. With missions dotting California as far south as San Diego and as far north as Sonoma, these annual fourth grade field trips are a great way for young students to receive a hands-on lesson about their local mission that goes far beyond the normal classroom studies. Although the programs can vary by school district, at its core, these suggested fourth grade field trips focus on the regional significance of a mission, including its history and timeline. It also focuses on learning about the local indigenous people and how they interacted with the mission. While every one of the 21 missions offers a unique story, few can compare to Oceanside's very own "King of the Missions" – Old Mission San Luis Rey.
About Mission San Luis Rey
Founded on June 13th, 1798 as one of the last missions built in California, Mission San Luis Rey de Francia is the largest of the 21 missions. Originally sitting on approximately 950,300 acres of land, today the 56 acres of property houses the beautifully restored mission buildings alongside historical ruins that make for an impressive sight to behold.
Mission San Luis Rey 4th Grade Studies Program
Mission San Luis Rey (SLR) offers a fantastic fourth grade studies program designed to give school groups and families a chance to experience and learn all about this historical location. Held weekdays by appointment from December – May, the program begins with a 20 minute presentation by a Mission SLR Docent. This introduction will cover not only the four time periods of the mission, but also the evolution of the area from the homeland of hunter-harvester natives to a thriving agricultural settlement totaling over 900,000 acres in size.
What to See During a Tour
Visitors and students will be split into groups that will stop at five locations, each portraying different aspects of mission life to discuss. Stops include the soldier barracks, the lavanderia or washroom, the quadrangle, the historic church and finally the cemetery. The mission museum and remaining grounds are also available for self-guided touring afterwards, including the hands-on Luiseño Indians display featuring cultural objects and tools. In addition there is a picnic area designated for scenic lunch breaks that will be available for use during your time at the mission. Finally a scavenger hunt is open for free participation, complete with trivia and facts that help guide you through most of the mission grounds, including the historic cemetery and the Native American Memorial!
More: Scavenger Hunt Student Guide
Homeschool and Educational Vacation Groups
The cost for the fourth grade studies program is an affordable option for any sized group. In addition, smaller homeschool groups and families looking to do educational trips are encouraged to also participate even if they aren't affiliated with a larger school. The smaller groups will be accommodated by joining their appointment with other fourth grade school tours when there is room. These mission tours offer a fascinating look into California's historical past that is worth making a trip out to Oceanside to see, regardless of where you live or what school you go to. The mission asks teachers and guests to plan for a total of three hours for their visit to the grounds, but don't be surprised if you decide you want to stay longer and keep exploring!
More: Educational Travel Experiences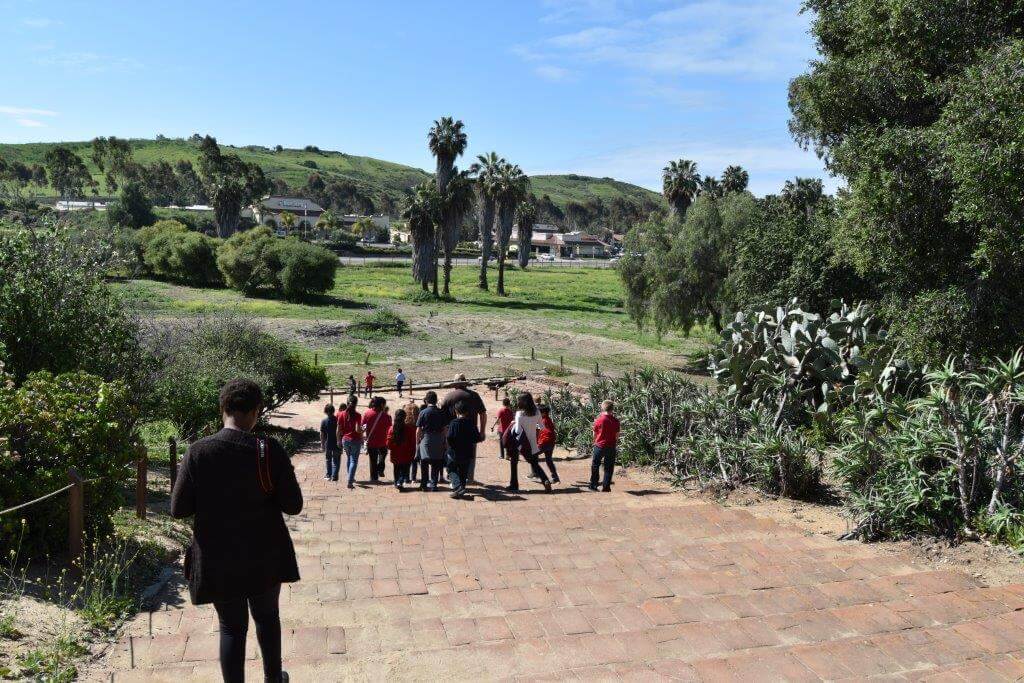 Bonus Activities
For return trips consider their behind-the-scenes tour available on weekends. This tour offers the unique chance to visit areas of the mission grounds that are not normally open to the public, and learn historical facts and stories from an expert. For times and ticket prices visit Mission San Luis Rey Behind-the-Scenes Tour.
Additionally, the mission offers special retreat days where guests can unplug from technology and the world to unwind and relax. So bring a book to read, a journal to write in, meditate in the private gardens, or just take a nap. For available days and to register visit Mission San Luis Rey Quiet Day Retreats.